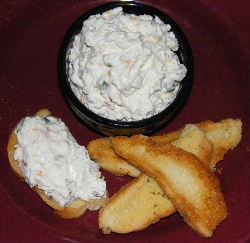 Bacon Horseradish Dip
This yummy bacon horseradish dip is excellent for entertaining. It's perfect on crackers or garlic toast and for a variation on ham roll hor d'oeuvres, spread this dip on the ham, roll it up and cut it into bite size pieces.

-8 ounces cream cheese, softened
-8 ounces sour cream
-1 cup shredded cheddar cheese
-5 slices bacon
-1 tablespoon prepared horseradish (in the refrigerated section of your grocer)
-2 green onions

In a frying pan, cook bacon until crispy. While the bacon is cooking, in a large mixing bowl, add cream cheese, sour cream, cheddar cheese and horseradish and blend with an electric mixer.

When bacon is done, blot on papertowel and allow to cool.

Clean and chop the green onions using most of the greens and add to cream cheese.

When bacon is cool, crumble into cream cheese mixture and mix by hand. Chill for about an hour to allow all the flavors to blend and serve with crackers or garlic toast.


Click here for more great appetizer recipes like Bacon Horseradish Dip!