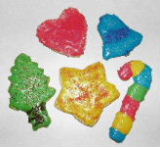 Holiday Recipes
---
Comfort food is often created by the holiday recipes we use. My grandma always did an Easter Ham, Thanksgiving Turkey and Christmas was a choice between the two or sometimes both depending on how many were coming to dinner. Over the years, my mom and I turned Christmas Eve into an appetizer buffet; each year we try to bring a few new recipes to the buffet, while still keeping the favorites. Two years ago when we spent all day cooking, and then we were too tired to enjoy the evenings festivities.

My daughter and I tend to favor Halloween. She likes to do a Halloween sleepover party every year so we decorate, have scary crafts and games planned...and the food. It wouldn't be a party without the food....
Cranberry Meatballs

Creepy Halloween Punch

Cut Out Cookies

Deviled Eggs

Lime Jello Salad

Peanut Butter Balls

Pumpkin Cupcakes

Puppy Chow for Kids

Roast Turkey

Roast Turkey Stuffing

Sour Cream Cookies

Click here to return to the top of Comfort Food Holiday Recipes!