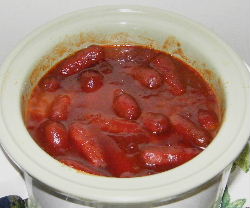 Barbecue Mini Hotdogs
Barbecue mini hotdogs are the perfect buffet appetizer. In five minutes or less, you have the ingredients in a crock pot, warming and ready to go. Some people just throw barbecue sauce over the hot dogs and that's it, but I mess with the sauce, because bottled barbecue sauce is a little to sharp for some of my family.

-1 small bottle (18 ounce) bottle of barbecue sauce
-5 tablespoons ketchup
-1/4 cup brown sugar
-1/2 teaspoon horseradish mustard (brown mustard if you don't like horseradish)
-48 ounce package of mini hot dogs or little smokies (approximately 60 count)

Put your dogs in the crock pot; mix the remaining ingredients for your sauce. Pour the sauce over your hot dogs and plug in the crock pot. These are always a favorite treat on the buffet table.
Click here for more great appetizer recipes like Barbecue Mini Hotdogs