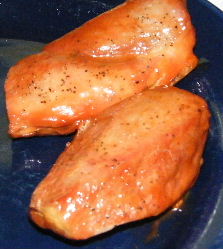 Barbecued Ribs
These barbecued ribs are made with country style boneless pork ribs so they're very meaty, and the sweet sauce is made by tweaking a bottled sauce so they're very simple. This would really be a quick and easy recipe if it weren't for the long cook time. The good news is that you can also make them in the crock pot if you're not going to be home to tend to the oven. The crock pot directions are at the bottom of this oven recipe.

-8 - 12 country style boneless pork ribs
-28 ounce bottle of barbecue sauce
-1/4 cup ketchup
-1/2 cup brown sugar
-1 teaspoon brown mustard

Preheat your oven to 400 degrees. In a baking pan that fits the number of ribs your making side by side, not on top of each other, lightly grease the bottom of your pan. Lay the ribs in the pan, salt and pepper and place them in the oven. Cook them for 20-30 minutes, until they're browned. This seals in the juices and then a long cooking time on low heat makes them tender. Turn your heat down to 200 degrees, cover the pan with tin foil and bake them another 90 minutes. Remove the ribs from the oven, and pour off about half of the liquid. Mix the sauce up with the remaining ingredients and pour this sauce over the ribs. Cook them for at least another 30 minutes, up to 90 minutes longer. You're using a low heat and there is plenty of liquid in the pan to keeps the ribs juicy so don't worry about burning them.

If you're pressed for time and planning on making them in the crock pot, you can brown the ribs in a frying pan, and then place them in the crock pot, pour the sauce over and let them cook until they fall apart--about 6-8 hours.
Click here for more great pork recipes like Barbecued Ribs!