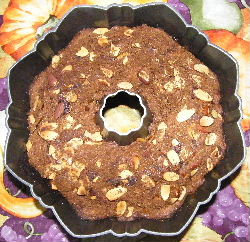 Berry Coffee Cake
This wonderful berry coffee cake is the perfect way to start off your day. When you read through the recipe, you'll probably think that there are a lot of details and that it's too hard, but I'll walk you through it, step by step and you'll see how easy it is. This berry coffee cake is deliciously worth the work.

-2 cups flour
-1 teaspoon baking powder
-1 teaspoon baking soda
-1 cup small curd cottage cheese
-2 teaspoons vanilla extract
-1/2 cup butter, softened
-1 1/3 cups brown sugar, packed
-2 eggs
-1 teaspoon zest of orange (click here for instructions on zesting )
-1 cup mixed fresh berries, chopped (you can substitute here with strawberries, blueberries, raspberries or even peaches or apples--I've also used frozen berries when I've made it out of season)
-2 teaspoons ground cinnamon
-1/2 cup sliced almonds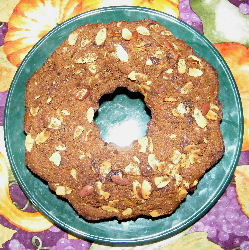 Preheat oven to 350 degrees.

Generously butter an angel food pan or a spring pan. As you can see in the photo I used an angel food pan and when it cooled, I put a plate over the top, flipped it and it slid right out. Then I used another plate to flip it back over on it's top. If you have a spring pan, you can remove the outer and inner ring when it's cooled--no flipping.

In a small bowl, combine the flour, baking powder and baking soda and set aside. In another small bowl, mix together the cottage cheese and vanilla. Set it aside also.

In a large mixing bowl, beat the butter and 1 cup of the brown sugar with an electric mixer until blended. Add eggs, one at a time and mix after each. Mix in the orange zest.

Gradually begin mixing in the flour mixture, alternating with the cottage cheese mixture until all is well blended.

Spread half of the mixture into your pan. Cover with whatever fruit you've chosen.

Mix together the cinnamon, almonds and the rest of the brown sugar. Sprinkle half of it over the berries--try to distribute the almonds evenly. Save the other half for the end.

Spread the remaining batter over the fruit and almonds. Do this in large spoonfuls to cover them completely. Lastly, sprinkle over the rest of the almond mixture, again trying to evenly distribute the almonds and cinnamon sugar.

Bake for 40 minutes or until you can insert a wooden toothpick and pull it out clean. Cool for at least 20 minutes before removing from pan.


Click here for more great breakfast recipes like Berry Coffee Cake