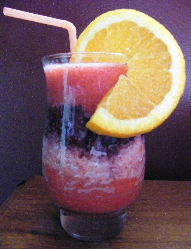 Berry Slush
This delicious berry slush can be made with alcohol for the adults and without for the kids. It's a very refreshing drink for any summer party when the berries are in season and you can use frozen berries, when fresh aren't available.

If you want to make it extra fun for the kids, you pour it in layers and pop it in the freezer for about 10 minutes between each layer for a striped look.

-20 ounces frozen, unsweetened strawberries, unthawed or 1 pint fresh strawberries
-3 cups orange juice
-14 ounces frozen blueberries, unthawed or 2 cups fresh blueberries
-3/4 cup powdered (confectioner's) sugar
-orange slices and/or fresh strawberries for garnishing the glass
-1/2 - 3/4 cup vodka (optional for the adults)

In a blender, combine the strawberries, 2 cups of orange juice, 1/2 cup sugar, and 1/2 of the vodka if you're making the slush for adults. Cover and process until smooth. Pour a layer into each glass (place them in the freezer if you're making layers), then pour the balance into a separate pitcher.

Rinse out the blender and add the blueberries and the remaining sugar, orange juice and alcohol. Cover and blend until smooth. Pour a layer into your glasses and pop them back into the freezer for another 10 minutes.

Continue alternating and freezing until your glasses are full or the slush is all gone. We have a hard time waiting for the freezing but it looks really cool when it blends together. Typically, when I make them for an adult party, there isn't time to freeze in between layers so it makes kind of a cool looking drink and they're ready very quickly.


Click here for more great party drinks like Berry Slush!