Blueberry Cherry Torte
This Blueberry Cherry Torte is one of those recipes that was hard to photograph. A finished Blueberry Cherry Torte would look like a pan with whipped cream, so I used two photographs to show you how it should look in between steps. The ideal photo would be a slice on a plate so that you could see the layers, but this particular torte went to a teacher appreciation luncheon so digging a piece out really wasn't an option.
You can use any fruit filling for this recipe. Blueberry pie filling and cherry pie filling are two of my families favorites, but a lot of people use peach, raspberry or apple. You also do not have to split the fruit fillings; you can make the entire torte with only one filling. At Christmas, my two sisters and I love to take the 3 center pieces with a little of each fruit filling--the fact that we now have children who want those center pieces has forced us to each eat two pieces so we can try a little of both....darn!
Crust:
-16 graham crackers, crushed
-1/2 cup sugar
-1/2 cup butter
Mix these three ingredients and pat into your 9x13 inch pan and bake at 350 degrees for 5 minutes.
Filling:
-3 beaten eggs
-1/2 cup sugar
-8 ounces cream cheese, softened
-1/2 teaspoon vanilla
In a mixing bowl, start with the cream cheese, add the vanilla and gradually mix in the sugar. Fold the beaten eggs into the cheese mixture (this is my mother's-yes her recipe-fancy way of saying mix the eggs in gently). Pour on the graham cracker crust and bake at 350 degrees for 20 minutes. It should come out looking like this: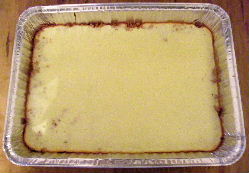 Topping:
-1 can blueberry pie filling
-1 can cherry pie filling
-8 ounce container of whipped topping (like cool whip)
Put 1 can of topping on one half of your crust with filling, then the other can on the other half. It should look sort of like this (this was one of those photos that just wouldn't turn out looking normal-it looks much better in person):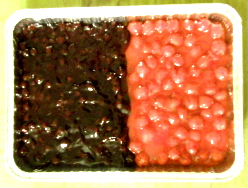 and top with whipped cream. Put it in the refrigerator until you're ready to serve!
Click here to see more dessert recipes like Blueberry Cherry Torte