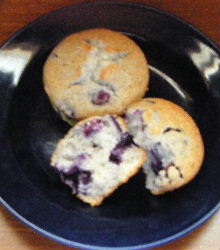 Homemade Blueberry Muffins
Made from scratch blueberry muffins--they're so easy when you use frozen blueberries. You can keep the blueberries in the freezer until you're ready to make them, and since they require no yeast, or rising time, it's easy to whip up a batch anytime. If the blueberries are in season, you can also substitute fresh blueberries.

- 2 cups all-purpose flour
-2 teaspoons baking powder
-1/4 teaspoon salt
-1/2 cup butter, softened
-1 cup sugar
-2 large eggs
-1/2 cup milk
-1 teaspoon vanilla extract
-1 cup frozen blueberries, unthawed
-1 tablespoon white sugar crystals to top off (optional)

You can thaw the blueberries in the microwave for about 30 seconds if you didn't take them out and unthaw them on the counter.

In a medium sized mixing bowl, combine the flour, baking powder and salt. In a large mixing bowl, blend the butter and sugar with your electric mixer. Add in the eggs, milk and vanilla, beating until completely blended.

Slowly add in the flour mixture, continue to mix until all ingredients are moistened. Fold in the blueberries.

Line a muffin tin with paper muffin cups and fill them approximately two-thirds of the way full. (These muffins make great mini's too.)

If you're using the sugar crystals, sprinkle them over the unbaked muffins.

Bake at 375 degrees for 20 minutes. Check by sticking a toothpick into the center. If it comes out clean, they're done. If not, give them another 5 minutes before removing them from the oven. When they're done, cool them for 10 minutes before removing them from the pan.

This recipe will make 12-13 muffins.


Click here for more great bread recipes like Blueberry Muffins!