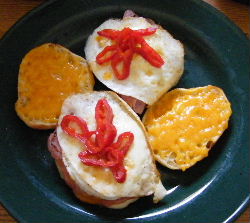 Breakfast Sandwiches
These delicious breakfast sandwiches are yummy and filling. This recipe makes four sandwiches to get you and your family going in the morning.

-5 tablespoons butter
-4 eggs
-4 ounces of ham (1 ounce for each sandwich)
-1 red pepper, cleaned and cut into strips
-4 English muffins (8 halves)
-4 slices Munster cheese (you can use any white cheese here)
-1/2 cup shredded Colby cheese (again, you can use any yellow cheese)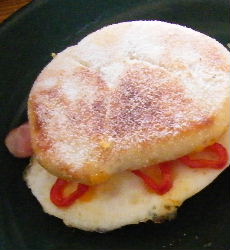 Preheat your oven to 350 degrees.

In a large frying pan, over medium heat, melt 1 tablespoon butter. Break the 4 eggs into the pan. Fry 2-3 minutes and then flip each egg over. Cook an addition 1-2 minutes and remove from the burner.

In a second non-stick frying pan, add the red pepper strips and top with the ham. While these are warming, toast your English muffins, buttering each half as they come out of the toaster with the remaining butter.

Place muffins, butter side up, on a large baking sheet. Top 4 of the halves, each with 1 ounce of ham, 1 Munster cheese slice, 1 egg and several red peppers. Top the remaining 4 halves, evenly with the shredded cheddar. Heat in the oven 2-3 minutes, until the cheese is melted. Take out and top the egg halves with the cheddar halves and serve.
Click here for more great breakfast recipes like Breakfast Sandwiches!