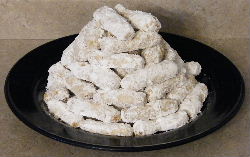 Butter Pecan Cookies
Butter pecan cookies are a delicious treat that melts in your mouth. The recipe calls for them to be rolled into logs or crescents, and I do, but you could also shape them into coins or just spoon them on the pan into bite size pieces--you would get more powder sugar if you did the latter.

If you roll the cookies into logs that are 4 1/2 inch long with a 1/2 inch diameter, you can get approximately 42 cookies out of a batch. They are small though, so if you decide to double the recipe, do not double the salt.

-1 cup butter, softened
-1 egg yolk
-3 cups flour
-1/3 cup sugar (the granulated kind)
-2 teaspoons vanilla
-1/4 teaspoon salt
-1 cup finely chopped pecans (I use the cookie bits)
-powdered or confectioners sugar

In a large mixing bowl, beat the butter and sugar with an electric mixer. Stir in the remaining ingredients--except the powdered sugar.

Roll into logs, crescents or whatever other shape you'd like and place on ungreased cookie sheet. These cookies will not spread out much during baking so you can place them about 1/2 inch apart and they won't melt together. Bake at 325 degrees for 18-20 minutes. Remove and let cool completely (usually overnight).

When the cookies are completely cooled, roll them in powdered sugar.


Click here for more great cookie recipes like Butter Pecan Cookies!