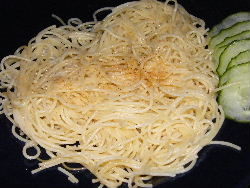 Buttered Noodles
Buttered noodles are fast and easy to make. In this photo, I've used angel hair pasta, but you can use egg noodles, spaghetti, macaroni, or I've even used the tri colored spiral noodles. It's whatever works when you're in a hurry and need a yummy side dish to fill out a meal. Also, I use seasoning salt, but if you don't have this on hand, I've used crushed chicken bouillon cubes, onion soup mix, beau monde seasoning and sometimes it's a mixture of what's in the spice rack and what I'm in the mood for. You can create so many delicious side dishes to go with any meal depending on which spices you use. So here's the basic recipe:

-16 ounces of pasta (the thicker the pasta, the more seasoning you will need to use)
-3 tablespoons butter
-1 1/2 teaspoons seasoning salt (this is for the angel hair pasta, which is relatively light, so you may want to add more if you use a heavier pasta like macaroni. Also, I use Lawry's Seasoning Salt.)

Bring a large pot of water with 1 teaspoon regular salt to a boil. When it's boiling, add your pasta and cook--approximately 5-7 minutes for angel hair pasta, longer for heavier pasta. In a frying pan, melt butter. Drain the pasta and add to your frying pan. Sprinkle your seasonings on the noodles and mix in the frying pan on a high heat. If I'm making them for my daughter, I only warm them through and make sure that they are coated in butter and seasoning salt, but if I make them for myself or others, I like them a little more cooked, so I keep them on the high heat, stirring them for about 10-15 minutes.
Click here for more great pasta recipes like Buttered Noodles!