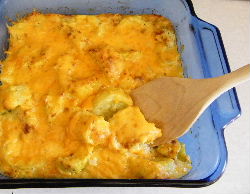 Cheesy Squash
This easy cheesy squash casserole is so simple to make and it is a great way to use up an abundance of squash from your garden. It has lots of cheese so your kids will love it too.

- 2 pounds yellow squash (about 4 medium sized)
-1 small onion, peeled and chopped finely
-1 1/2 cups grated cheddar cheese, divided in half
-2 eggs
-3 tablespoons butter
-1 tablespoon sugar
-1 teaspoon rubbed sage
-1/8 teaspoon paprika
-1/4 teaspoon salt
-1/8 teaspoon black pepper
-another 1/2 teaspoon paprika

Preheat your oven to 350 degrees.

Place a large kettle of water on your stove on high heat to get it boiling. Clean your squash (I wash and peel away any unattractive spots) and cut into large chunks. When the water is boiling, add squash and cook until tender--about 5-7 minutes. When tender, drain and set aside.

In a large mixing bowl, place the onion, 1/2 of the cheese, eggs, butter, sugar, sage, salt, pepper and 1/8 teaspoon of paprika and mix well. Add the chunks of squash and mix again to coat the squash.

Grease a glass baking dish with butter and pour the squash mixture into the pan. Sprinkle on the 1/2 teaspoon of paprika and top with the rest of the cheese. Place in the oven and bake for 25 minutes. Serve warm.
Click here for more great vegetable recipes like Cheesy Squash!