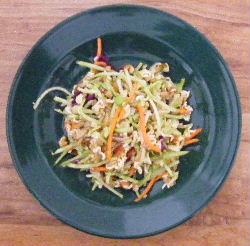 Chinese Coleslaw
I know, Chinese Coleslaw...all you can think of is vegetables and you're wondering what this recipe is doing on my website. But, trust me, the flavor from the dressing on top of all those crunchy vegies is SOOOO good! Just try it.

-1 bag of broccoli slaw (find it next to the bagged lettuce in the supermarket)
-2 packages of beef flavor Ramen noodles (find them in the packaged soup mix area in the supermarket)
-1 cup sunflower seeds
-1 cup slivered almonds (plain or I've used seasoned and they give added flavor)
-1 small bunch green onions, chopped (use about 3/4 of the whole onion so you get some of the greens)
-2/3 cup olive oil
-1/3 cup vinegar
-1/2 cup sugar
-1 teaspoon Worcestershire sauce
-salt and pepper

Mix oil, vinegar, sugar, Worcestershire and the seasoning packets from the Ramen noodles in a large bowl. Add the balance of the other ingredients, including the uncooked Ramen noodles, crumbled up. If you're having trouble crumbling the Ramen noodles, put them in a plastic bag and hit them with a meat mallet until you get bite-sized chunks. Add salt & pepper to taste. This salad is a great dish to bring to a backyard cook out.
Click here for more great salad recipes like Chinese Coleslaw!