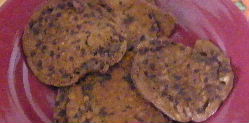 Double Chocolate Chip Pancakes
Double chocolate chip pancakes are a simple ingredient recipe that is sure to be a hit with your kids. They are so chocolatey, my daughter doesn't even put syrup on them. They are a big hit for breakfast after her slumber parties.

-pancake mix (I use the generic brand)
-milk
-2 tablespoons chocolate drink mix (I use Ovaltine)
-1/4 cup semi-sweet mini chocolate chips

Heat your pancake griddle on medium heat; put a little butter on the pan so your pancakes don't stick. As the butter is melting, mix up your pancakes. Make the pancakes according to the directions on the box, but instead of water, use milk. Add in the chocolate drink mix--for every cup of pancake mix you use, add 2 tablespoons of the drink mix. Last, add your chocolate chips and mix, so that all the chips are coated. Pour onto your pancake griddle. When you see your edges starting to form a solid, flip the pancakes. One cup of pancake mix makes about four nice sized pancakes.
Click here for more great breakfast recipes like Double Chocolate Chip Pancakes!