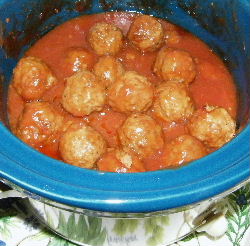 Cranberry Meatballs
Cranberry Meatballs are one of those easy to make recipes that tastes like you slaved for hours and it's perfect for entertaining. Either as an hor'douvres, an appetizer or holiday buffet. This first time I made this recipe, my dad said, "did you put grape jelly in there?" Apparently he had heard of this recipe made with grape jelly and thought he had figured out my recipe, so if anyone wants to substitute the cranberries for grape jelly, let me know how it turns out!
-1 Can jellied cranberries
-1 12 ounce jar chili sauce
-2 tablespoons brown sugar
-1 tablespoon lemon juice
-30-40 premade meatballs
Mix all the ingredients together in your crock pot and add premade or homemade (if you're ambitious) meatballs. You can add the meatballs directly from the freezer, but I've found that thawing and browning them prior to adding them to the sauce gives them better flavor. Also, blot off any grease with a paper towel before adding them as well. Simmer in the crock pot until warmed through and serve.
Click here for more great appetizer recipes like Cranberry Meatballs!