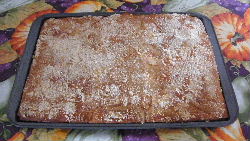 Cream Cheese Bars
I got the cream cheese bars recipe from a co-worker when I needed a quick, easy dessert to take to a pot-luck dinner. It got absolutely rave reviews. I went home with an empty pan, which must be the highest compliment ever.

-2 packages crescent rolls
-2 - 8 ounce packages cream cheese
-1 1/2 cups sugar
-1 egg yolk
-2 teaspoons of vanilla

On a 10 x 15 size jelly roll pan (a cookie sheet with sides), roll out 1 package of the crescent rolls. The pan can be a little smaller or a little larger, but you want to make sure the dough goes to the edges and that the seams are perfectly blended.

In a mixing bowl, combine the cream cheese, 1 cup of the sugar, the egg yolk, and 1 teaspoon of the vanilla. Blend it well with a mixer and spread it on top of the crescent roll crust you just pressed into the jelly roll pan.

Next, roll out the second package of crescent rolls, which will be laid on top of the cream cheese mixture. I can't just press this into the pan because the cream cheese would ooze everywhere so I lay it out on the counter and roll it out with a rolling pin, trying to stretch it into the approximate shape of my pan. If you have to piece it a little, just seal the seams together and unless you have gaps, it won't show.

Next, mix the last 1/2 cup of sugar together with the last 1 teaspoon of vanilla until it is well blended. Spread this out as evenly as possible on top of your pan. Pop it in the oven at 350 degrees and let it bake for 30 minutes. Cheesecake in less than an hour, who knew?
Click here for more great recipes like Cream Cheese Bars!