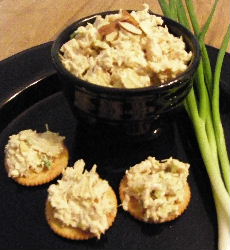 Curried Chicken Salad
This curried chicken salad recipe is my favorite chicken salad. It's spicy enough for me and mellow enough for the rest of my family. You can spread it on crackers or bread, and it is very tasty on a lettuce salad or served up in lettuce cups using red leaf or boston lettuce--you won't need salad dressing because there is so much flavor in the chicken salad itself.

-1 13 ounce can of chicken breast meat
-3 green onions, chopped up with part or most of the greens; enough to make about 1/4 cup
-2 tablespoons toasted, sliced almonds
-1 teaspoon curry powder
-1/4 cup plus 1 tablespoon mayonnaise
-dash of pepper

Cut up your chicken so it is in small pieces, about 1/2 inch or so. I don't know about you, but I hate chicken salad that gives me a mouthful of 1 piece of chicken, with no room left for the rest of the good stuff. Mix the rest of the ingredients together with the chicken. Cover and refrigerate for at least an hour. The longer you chill, the more time the flavors have to blend together. Serve up in your favorite manner or use the suggestions above.
Click here for more great chicken recipes like Curried Chicken Salad