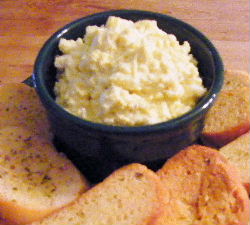 Egg Salad
This egg salad recipe is very basic so there are tons of ways to dress it up and give it different flavors. Mostly, I eat it plain on garlic toast, which gives it a great salty flavor, but sometimes I add in extras.

This recipe doesn't call for celery or onion, but I know a lot of people like these vegies in their egg salad and a lot of restaurants add them in to bulk up the spread. If you'd like to add them to this basic recipe, add in 1/8 cup of each; chopped coarsely and add in an extra 1/2 teaspoon of salad dressing for each 1/8 cup of vegies you add.

Also, you can add your favorite seasonings if you'd like to experiment. Sometimes I add in 1 tablespoon of ranch dressing or 1/2 teaspoon of curry powder. If I'm adding the seasoning, I usually add the celery and onions too so it's more of a salad.

I've included directions for hard boiling the eggs because you want to avoid the dark green discolored coating on the yolk, and also have easy peeling.

Extremely fresh eggs do not peel easily. It's a good idea to make sure your eggs are at least 2 weeks old before you cook them--if not, they will be hard to peel. The good news is that you're going to mash the eggs anyway so if they tear and stick to the shell, just use a spoon to scrape the inside of the shell. Also, if you cook the eggs slowly over a low heat, they're going to be harder to peel than if you boil them. For more help on making hard boiled eggs, check out the tips & tricks for making hard boiled eggs on this site.

Here's what you need:

-6 large eggs
-1/4 cup salad dressing
-1/8 teaspoon salt
-1/16 teaspoon pepper

Place your eggs in a medium saucepan and cover them completely with cold water. Bring to a boil over high heat. Once the water starts to boil, reduce the heat to medium and cook for ten minutes.

Remove the eggs from the burner and place the entire pan in the sink, running cold water into the pan. This helps to keep the eggs from getting that greenish gray film covering the yolks. Chill the eggs in the cold water until they are cool enough to peel--at least 5 minutes or so.

When the eggs are cooled, roll the egg on your counter, breaking up the shell and peel it. Put the peeled eggs in a large flat bottom bowl.

With a potato masher, or a sturdy fork, mash the eggs into smaller 1/4 inch chunks; some of it, like the yolks will get much smaller, don't worry about this. Add the salad dressing, salt and pepper and mix it up. Add any additional ingredients like those listed above, and mix them in as well. Chill for at least 20 minutes. Serve on garlic toast, bread or crackers.


Click here for more great sandwich recipes like Egg Salad!