Fluff Dessert Recipe
Fluff has got to be the easiest dessert recipe in the world. I got the recipe when I helped out with one of my daughters girl scout get togethers and the troop leaders had the girls make their own meal. Twelve girls in one small kitchen and you really need to have simple food items that they can all do.

You can use this recipe whenever the kids want to help and it's made with all the ingredients that you can keep on hand. I store Cool Whip in the freezer and pull it out an hour or two ahead of time so it is soft. And Jello and canned fruit can be kept in the cupboard for just about forever!

-One 16 ounce container of Cool Whip or any brand whipped cream--you could even use homemade whipped cream
-Two 15 ounce cans of fruit cocktail, peaches or pears
-One box gelatin in any flavor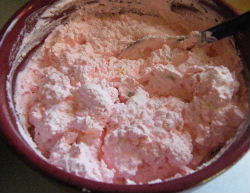 As you can see from my photos, I made a bowl with orange gelatin and another bowl with cherry. You can experiment with various flavors and fruits to come up with your own unique combination.

While I've never used fat free whipped cream, I do use unsweetened fruit packed in juice and I do use the gelatin that is sweetened with Splenda to avoid some of the sugar.

All you do is mix the gelatin into the whipped cream. When you have that thoroughly mixed in. Open your cans of fruit, drain them and mix them in.

You can serve it up immediately or it will keep in the refrigerator for about 3 days. Although, I will forwarn you, it does lose the smooth texture, the longer you keep it in the refrigerator.


Click here for more great Dessert Recipes like Fluff!