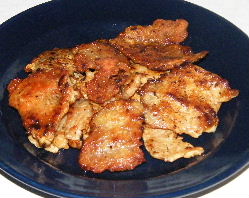 Fried Pork Loin Recipe
Grandma used to make this fried pork loin recipe when she didn't have time to actually roast the pork in the oven. The meat makes a wonderful sandwich, too. Just butter two slices of bread and spread horseradish mustard on. Then pile the pork on nice and thick. If you're taking leftovers to work, microwave the made sandwich at lunchtime, and the butter melts into the bread, giving you a warm lunch in minutes--it smells delicious too.

-1 pork loin roast, any size
-lard or left over bacon grease

You can use any size pork loin roast, but I usually pick one that is large, so I get two meals out of it. Fried pork first and then the roast another day.

First, slice one end of the roast with a very sharp knife. You want the pork to be as thin as possible. Then, in a large skillet, heat up your lard so it is completely melted. Put a layer of the pork in the pan and turn it as it begins to cook through. You make it in the same way you would fry bacon, but it is obviously meatier. It will take about 10-15 minutes to really get it fully cooked. Drain the pork on paper towels and enjoy.
Click here for more great pork recipes like Fried Pork Loin!