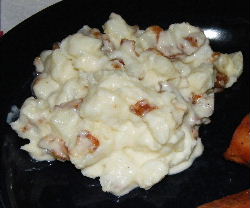 German Potato Salad
Grandma's German Potato Salad is a little different from the type they make in the deli. It doesn't have that sweet sour tang, but it's more creamy and we load in the bacon to make it a wonderful comfort food. It goes great with ham at Easter time.

-5 large white potatoes (Russet, Idaho, just not the reds)
-1/2 pound bacon
-1/3 cup flour
-1/2 cup vinegar
-1/2 cup sugar
-3/4 cup heavy cream (whipping cream unwhipped and unsweetened)

Peel your potatoes, cut into 1/2 inch cubes and place in a kettle. Cover with water and add 1/2 teaspoon of salt to the water. Bring the potatoes to a boil and cook until you can stab them with a fork and they are soft. Drain the potatoes. In a large skillet, fry your bacon. When it's crispy, remove it from the pan, but save the drippings. Slowly stir the flour into the bacon drippings over a low heat.

This is one of those touchy feely times when you have to cook by the way something looks, so if you didn't get 1/3 cup of bacon drippings, you have to add less flour. If you got more bacon drippings, you either have to add more flour or dump some of the drippings. You should get a slightly pasty consistency after all your flour is mixed in.

You will also need to increase or decrease the vinegar and sugar if you had more or less bacon drippings. A rule of thumb though, is to use equal parts bacon drippings and flour, then add slightly more of the vinegar and sugar, but also in equal parts.

Next, slowly mix in your vinegar and then the sugar. You should have a medium consistency white sauce. Then add the cream. This serves to make your white sauce rich tasting.

Pour the sauce over the potatoes and mix together, careful not to smash your potatoes. Crumble the bacon and mix in just before serving.
Click here for more great potato recipes like German Potato Salad!