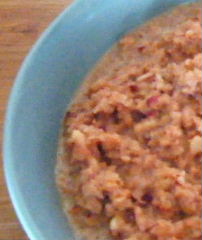 Grated Apple Topping for Pancakes and Crepes
This grated apple topping is so delicious on pancakes and is a great alternative to overly sweet store bought corn syrup. Now, I know the photo doesn't look all that great; this is one of those times when the magazines would have used a synthetic version, but I promise, it tastes yummy!
-8-10 soft apples, I use a 3 pound bag of Macintosh
-1/4-1/2 cup sugar, I use 1/4 cup because we like it a little more tart
-2/3 cup half and half or whipping cream
-1/2 teaspoon cinnamon
Grate your apples, skin too, down to the core in a large bowl. (You can use a grater like my grandma did, OR I use a bullet blender-just cut the apple off the core (throw core away) and cut into 1/2 inch pieces. Put in the small bullet blender cup and pulse blend until chopped--it's a little coarser than grating but WAY easier.) The apples will turn a little brown as you grate because you're bruising the fruit. This is okay and is similar to homemade apple sauce. Add the rest of your ingredients and mix well. Spoon on top of pancakes or crepes. I take the easy road when it comes to making the pancakes....I use a cheap 'just add water' box mix, but instead of water, I use whole milk to mix them. I add enough milk so the pancake is thin, and pour them on a hot griddle. They are so delicious with the apple topping.
Click here for more great breakfast recipes like Grated Apple Topping!