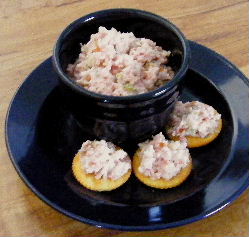 Ground Sausage Sandwich Spread
This ground sausage sandwich spread is a great way to use up leftovers and is so easy to make. You can use sausages or the rest of that Easter Ham.
-1 1/2 rings of bologna, smoked sausage or the equivalent amount of ham
-1/2 a jar of sweet sour pickles, you'll use have the pickles and half of the onion that's in the jar. I use the sweet dill pickle recipe in the canning section of this website.
-1/2 cup salad dressing, like miracle whip
Use a meat grinder to grind up your meat, pickles and onion all at the same time. You can use a bullet blender here too, but I've found the meat grinder to be easier as the bullet blender tends to get clogged really easy. Last year, my mom bought me an electric meat grinder, which is WAY easier to use than the crank one I inherited from grandma. When you're done grinding, mix in the salad dressing and chill for about 30 minutes or until you need it. When ready, spread on bread or crackers.
Click here for more sandwich recipes like Ground Sausage Sandwich Spread!