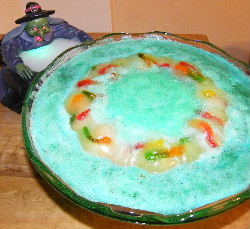 Creepy Halloween Punch
This creepy Halloween Punch is sure to be a big hit at your kid's Halloween party! It's really simple to make and it foams just like you would imagine a real potion would. You can also extend the life of this punch by adding more soda if you're starting to run out. As the ice ring melts, it adds more flavor to the punch.

-1 small bag of gummy worms, insects or other critters (about 1 cup)
-1 32 ounce bottle of lemon-lime thirst quencher type beverage (you can also use other flavors but stick to a light color because you want your gummies to show)
-1 package (4 serving size) lime flavored gelatin (again, you can use another flavor, just make sure it goes with the ring mold flavor)
-1 cup boiling water
-1 cup cold water
-3/4 quart lemon-lime soda, chilled
-1/4 cup confectioner's sugar (aka powder sugar), sifted so it is really fine


The night before the party, put your gummies and thirst quencher beverage into a ring mold and freeze until solid--it will need a good 8 hours. If you're like me, you'll want to make sure the gummies are spread throughout the mold so I freeze little sections at a time adding more gummies as I go. You don't need to do this though; it will be just fine if you don't.

In your punch bowl, add the boiling water to the gelatin. Stir until it is completely dissolved--about 2 minutes. Add cold water, then soda and sugar. It should be a little foamy.

Loosen your ice ring by dipping the bottom of the mold in hot water for a few seconds. Pop it out and gently slide it into your punch bowl. You can serve it in a punch glass with a gummy worm on the side, or you can serve it up, like I do, in your favorite skeleton glass!
Click here for more great holiday recipes like Creepy Halloween Punch!