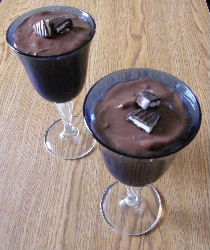 Homemade Chocolate Pudding
Homemade chocolate pudding is easier to make than you would think. The tricky part is bringing it to a boil without having it stick to the bottom of the pan. It does take a lot of stirring, but box pudding doesn't compare to this rich, creamy pudding!

-1 cup sugar
-1/2 cup unsweetened baking cocoa
-1/4 cup cornstarch
-1/2 teaspoon salt
-4 cups whole milk
-2 tablespoons butter, softened
-2 teaspoons vanilla extract
-chocolate mint patties, chocolate kisses or other topping candy is optional

In a heavy saucepan, combine the sugar, cocoa, cornstarch and salt. Slowly add in the milk, stirring so you don't have lumps.

Bring to a rolling boil (very fast boil that doesn't stop boiling when you stir) over a medium heat. Once you've reached the boiling point, continue to boil and stir continuously for 2 minutes or until pudding becomes thickened.

Spoon into dishes and chill for at least 1/2 hour. Top with chocolate kisses, mint candies if you'd like and serve.


Click here for more great dessert recipes like Homemade Chocolate Pudding!