Lemon Walnut Bread
This delicious lemon walnut bread is very simple to throw together when you need a dessert bread. It's perfect for bake sales and breakfasts with a warm cup of coffee. This recipe will make two regular size loaves or six of the miniature loaves if you're doing a bake sale.

-4 ounces cream cheese, softened
-1/2 cup Mascarpone cheese
-1/2 cup butter, softened
-1 1/4 cups brown sugar
-2 large eggs
-2 1/4 cups flour
-1 tablespoon baking powder
-1/2 teaspoon salt
-3/4 cup milk
-2/3 cup chopped walnuts
-1 cup powder (or confectioners) sugar
-1/2 teaspoon lemon zest
-2 1/2 tablespoons fresh lemon juice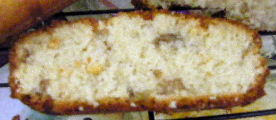 Preheat the oven to 350 degrees.

In a large mixing bowl, beat cream cheese, Mascarpone cheese and butter with an electric mixer until soft and creamy. Slowly add in the brown sugar, continuing to mix. Add eggs, mixing in one at a time.

In a small mixing bowl, combine the flour, baking powder and salt. Begin beating the flour mixture into the cheese mixture, alternating with milk to keep it from getting too dry.

Stir in the walnuts and divide evenly into two well buttered loaf pans (or the six miniature loaf pans).

Bake for 45 minutes, or until a wooden toothpick comes out clean when inserted into the center. If you're making the miniature loaves, cut your baking time down to 30 minutes, checking during the last 5 minutes or so with a toothpick.

While the loaves are baking, mix together the powdered sugar, lemon zest (for how to zest a lemon, check out the cooking tips section) and the lemon juice until it's smooth. Use a spatula to flatten any lumps.

When the loaves come out of the oven, cool them on racks for approximately 10 minutes before popping them out. You can add the glaze while they're still in the pan or after you pop them out of the pan. Leave them on the rack until they're completely cooled.


Click here for more great bread recipes like Lemon Walnut Bread!