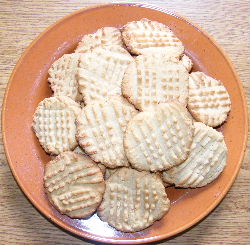 Peanut Butter Cookies
Peanut Butter Cookies are the perfect treat to bring to a bake sale or a fund raiser for your kid's athletic event. These homemade cookies are super easy to make--and quick! They're done in about an hour and the recipe is easy to double!

-1/2 cup butter, softened
-1/2 cup sugar
-1/2 cup light brown sugar
-1/2 cup peanut butter
-1 egg
-1/2 teaspoon vanilla extract
-1 1/4 cups all-purpose flour
-1/2 teaspoon baking soda
-1/2 teaspoon baking powder

In a large mixing bowl, combine the butter and both sugars. You want to mix these well and get all the lumps of brown sugar out. Add the peanut butter, egg and vanilla and mix well.

In a separate bowl, combine the flour with the baking soda and powder and mix thoroughly. Slowly add the flour mixture to the peanut butter mixture and blend well.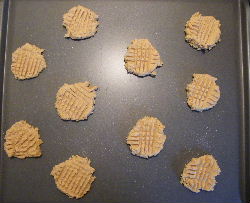 The original recipe calls for shaping one inch balls and placing them two inches apart on an ungreased baking sheet, but as you can see from my photos, I get a little carried away. One inch doesn't work for me--a cookie really should be more than a mouthful--so I do a 1.5 to 2 inch glob. (I don't waste my time rolling it into balls. If you want your cookies to look more round, chill the dough in the frig for about an hour and it will be easier to roll.)

When your balls (or globs) are on the cookie tray, use a fork to flatten them down. Sprinkle with a little extra sugar and put in the oven at 375 degrees for 8-10 minutes. Cookie bottoms should be lightly browned and the centers set. When they're done I take them out of the oven and put them on a brown paper bag to cool.

Again, if you did the one inch balls, you should have about 4 dozen cookies. If you made your cookies bigger, you will yield more like two dozen (I usually get around 28).
Click here for more great cookie recipes like Peanut Butter Cookies!