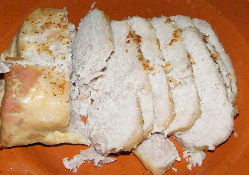 Simple Pork Roast
This basic pork roast recipe is a staple at our house. It's simple and delicious, always tender and I can make a terrific gravy out of the juices. The directions for the gravy are at the bottom. Also further down, how to do this pork roast in the crock pot for the time rushed.

Since this is a basic recipe, you can experiment and dress it up so your friends and family always think it's a new recipe, but all you did was add simple ingredients, like spiced apples, cranberries or sun dried tomatoes (add fruit and vegies after it's browned), season with rosemary or thyme, or both (add in place of, or with the minced onion)...you decide, they're are so many options.

-2-3 pound pork roast (in the photo, I used pork loin, but you can use a shoulder, tenderloin, a rolled roast--this recipe will work for all of them)
-salt & pepper
-dried, minced onion

Preheat your oven to 400 degrees. Place your roast in a roasting pan with a cover. Add enough liquid (water, apple juice and cola are my favorites to add--they all give a different flavor, so again you can experiment) so you have 1/2 inch of liquid surrounding your roast. Salt, pepper and sprinkle onion on the top of the roast. (I wouldn't recommend using the onion if your going to be adding fruit, but it tastes great with the tomatoes. You can use a different spice or none at all if you're using a fruit.) Place in the oven, uncovered and cook for 20-30 minutes, until the roast is browned. Make sure there is enough liquid in the pan and turn your oven down to 200 degrees. Cover and bake for at least another 2 hours, 3 is better. It won't burn at such a low heat, as long as there is enough liquid in the pan. This way of cooking gives a slow roast flavor and your meat will fall apart, very juicy.

If you are pressed for time and aren't hanging around the house all afternoon. You can make this roast in the crock pot. Just brown the meat in a frying pan, throw it in the crock pot, cover it with your liquid and seasonings, and let it cook for 6-8 hours.

For the gravy. Remove your roast from the pan along with any chunks of meat or leavings. You should have enough liquid for your gravy, but if you don't, you can add up to 1/2 cup of water. More than that will dilute your flavor. (If you boiled potatoes to go with the roast, drain about a cup of the starchy water into the juice for added flavor-this is something my grandma always did.) Mix up equal parts of flour and water (how much you need depends on how much juice you have to thicken and how thick you want your gravy, but you can start with about 1/3 of a cup. Also, the best way to do this is to use a Tupperware container with a tight seal and shake it.) Heat the juices until they're just starting to boil and add your flour mixture slowly while stirring. Add enough flour mixture until you get the desired consistency and you have a mouthwatering gravy to add to your roast.
Click here for more great pork recipes like Pork Roast!