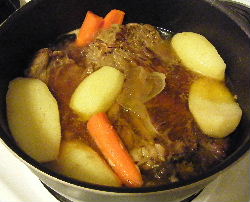 Easy Pot Roast Recipe
This is my mom's pot roast recipe. The one I mentioned in the previous page. She was making it the other day, so I shot a quick photo of it from on her stove and got the recipe. It smelled terrific; hope you like it!

-3 pound chuck roast
-2 tablespoons olive oil
-1 small onion
-4 large carrots, peeled and cut in quarters
-4 large potatoes, peeled and cut in quarters
-1/3 cup flour
-salt and pepper

Put olive oil in a large pot. Salt and pepper both sides of your roast and place in pot. Brown one side (use medium heat for approximately 10 minutes each side), turn it over and brown the other side. Peel/clean your onion and cut it into quarters. Add the onion to the pot and enough water to cover the meat and onion, plus about an inch above it. Let this simmer on your stove (or in a crock pot) for 2 1/2 hours. Check every so often, to make sure your water level is still above the meat and onion. Then, add carrots and potatoes. If you need to add more water, so that the carrots and potatoes are covered, do so. Cook on medium heat until the potatoes and carrots are tender (approximately 1/2 hour). Remove everything from the pot onto your serving plate, saving the juice in the pot.

To make the gravy, start with equal parts flour and water, approximately 1/3 cup each. Put them in a container with a lid and shake them up (this works better than trying to stir the mixture). Bring the juice in the pot to a boil and add your flour mixture slowly, while stirring. If the gravy isn't thick enough, make and add more of the flour mixture until you get the thickness you like. You can serve the gravy separately or pour it over your meat and vegetable platter.
Click here for more great beef recipes like Pot Roast!