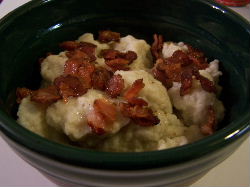 Potato Dumplings
While you can use these potato dumplings in soup, I think they're best as a side dish topped with a little bacon. They are terrific with gravy poured over them too. If you're making a roast, these dumplings are a great alternative to plain potatoes. My daughter likes them made really small and added to creamy chicken soup. They're a little putzy to make, but definitely worth it--a sure thing when it comes to comfort food!

-4 medium sized potatoes
-2 eggs, beaten
-1/2 teaspoon salt
-2 tablespoons salt
-flour
-½ pound bacon
-3 quarts water

Peel potatoes and grate them. Drain off any excess liquid. Add eggs and 1/2 teaspoon salt to potatoes and mix well. Begin adding flour to thicken potato mixture until it forms a ball. You'll start with about 1 cup of flour but the actual amount that you will end up using is a guess since the size of your potatoes could be different.

In a large pot, bring water to a boil with 2 tablespoons salt. When the water is fully boiling, drop teaspoonfuls of dough into the water. Keep enough heat to maintain a rolling boil. It will foam up so be careful that it doesn't go over the top. Boil for 10-15 minutes and remove to a serving dish when they're done. You can do more than one batch in the same water.

While the dumplings are boiling, dice up bacon in 1/2 inch pieces and fry until crispy. When all the dumplings are cooked and in your serving dish, pour bacon and a little of the grease over the dumplings. Serve warm.


Click here for more great potato recipes like Potato Dumplings!