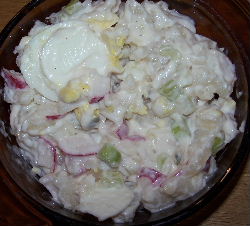 Mom's Potato Salad
This is my mom's potato salad recipe. It's easy to make and goes great at picnics and outdoor parties with cold sandwiches and raw vegies with dip. It's also great at your superbowl parties with grilled brats, hotdogs and hamburgers.

-5 medium red potatoes
-2 hard boiled eggs
-5 green onions
-5 large radishes
-2 stalks of celery
-1 cup salad dressing
-1/4 cup sugar
-1/4 cup vinegar
-1/2 teaspoon dry mustard
-1 tablespoon salt
-1/2 teaspoon pepper

Wash potatoes and place in a large pot with enough water to cover them. Bring to a boil and continue to cook until the potatoes are soft; when you can insert of fork easily-approximately 15 minutes.

When potatoes are done, run cold water over them and and peel off the skin when they are cool enough to handle. Slice the peeled potatoes into a large bowl. Clean and chop the onions, celery (do not use the leafy tops) and radishes and add to potatoes. Peel and slice your hard boiled eggs and mix them into the potatoes and vegetables.

Mix remaining ingredients together in small bowl. Pour the dressing over the potatoes, vegies and egg and mix well.

Chill for at least 1 hour before serving.

Just a hint: If your potatoes were a little on the large side and you feel that there isn't enough dressing, mix together 1/2 cup salad dressing, 1 tablespoon sugar and 1 tablespoon vinegar and add to your salad.


Click here for more great potato recipes like Mom's Potato Salad!