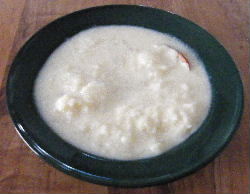 Sour Potato Soup
When most people think of potato soup, they think creamy, with ham or bacon and cheese. This recipe is a little unusual, and while my family has been making and eating it since I was little, I have never heard of anyone else having this recipe. My grandmother got it from her mother-in-law, when my grandpa told her she wasn't cooking it right, shortly after they were married. You can imagine how well that went over, but she did start making it the way he liked it.

When I started putting my recipes on this website, I did find a very old listing from 1906 that is pretty close to this, but of course, not as good. It came out of a recipe book written by some Pennsylvanian nuns--I'm sure if you Google 'sour potato soup', you'll find it, but here's great grandma's version:

-5 medium sized potatoes, peeled and diced up into 1 inch chunks
-1 cup sweet onion, diced up into 1/2 inch chunks
-3 cups water
-2 teaspoons salt
-1/8 cup lard
-1/4 teaspoon pepper
-2 cups half & half cream
-1/2 cup vinegar (you can add more if you like it really sour)

Put all ingredients except the cream and vinegar into a large kettle. Bring to a boil, then turn down heat and allow to simmer until potatoes are soft. Using a potato masher, mash the potatoes in the kettle; do NOT drain them, this is part of the soup. Add the cream and vinegar. Bring the soup back to a boil, then turn off. In a bowl, tear up a piece of soft white bread and pour your soup over the bread. The bread adds extra texture and flavor and it also absorbs some of the vinegar.
Click here for more great soup recipes like Sour Potato Soup!