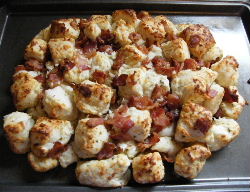 Pull-Apart Bacon Bread with Cheese
Pull-Apart Bacon Bread is kind of a long name, but what do you call bread with bacon and cheese baked in that pulls apart in little sections?

This recipe takes a little time since you have to unthaw frozen bread dough and let it rise before starting, but it is well worth it!

-12 strips of bacon, diced
-1 pound loaf of frozen bread dough, thawed and risen (follow directions on package)
-2 tablespoons olive oil
-1 cup mozzarella cheese, shredded
-1 - 1 ounce package ranch dressing mix

In a pan, cook bacon until mostly cooked, drain on paper towel to remove grease and set aside.

Take risen bread dough and roll out to 1/2 inch thickness and brush on 1 tablespoon olive oil. Cut dough into 1 inch pieces (I use a kitchen scissors to cut strips and then cut off one inch chunks--it is much easier than using a knife.)and place in a large bowl. Add the rest of the ingredients and toss to coat.

Put contents of bowl into a circle, layering as needed, on a 9x5 greased baking sheet. Cover and let rise in a warm place for 30 minutes or until the size has doubled.

Bake at 350 degrees for 15 minutes. Cover with tinfoil and bake until golden brown-another 10-15 minutes.


Click here for more great bread recipes like Pull-Apart Bacon Bread!