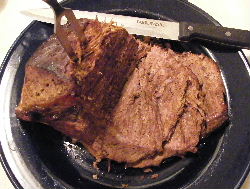 Easy Roast Beef
This roast beef recipe is so simple. It's a fix it and forget it type recipe that comes out tender every time. You can use a rump roast, sirloin roast or round roast; there really isn't a specific type of roast you have to stick with. You can also change it up by sprinkling seasoning on top...onion flake (which is what is in this photo), rosemary or thyme.

-3 pound roast
-1/4 cup apple juice
-1/4 cup water
-1 teaspoon onion flake or other seasoning of your choice
-salt and pepper

Place your beef in a medium sized roasting pan. Add juice and water. Salt, pepper and sprinkle your seasoning on top. Place in the oven uncovered at 400 degrees for 20 minutes. This browns the top of your roast.

After the 20 minutes are up, check to make sure you have at least 1 inch of liquid in the pan; if not, add water until you have at least an inch. If you have more, that is okay. Turn down heat to 325 degrees and cover. Cook for another 2 hours, periodically checking to make sure you have enough water (about every 45 minutes to an hour).

After 2 hours, your roast should be well cooked and ready to serve, but if you want to get it 'fall apart' tender and you have the time, turn the oven down to 250 degrees and continue to cook another hour. This works like your slow cooker, in that it cooks the meat in juices until it is really tender and ready to fall apart.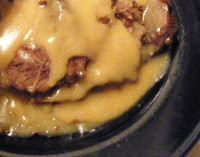 If you want gravy, remove your roast from the pan, leaving the juices in and place the pan on a stove top burner on medium heat. Mix two heaping teaspoons of flour with approximately one and one-half cups of water. When the juices are starting to bubble, slowly add flour mixture in while stirring. If this isn't thick enough for you, you can repeat the flour mixture until you get the desired thickness.

If you have a lot of left over roast beef, you can use it up making roast beef wraps!


Click here for more great beef recipes like Roast Beef!