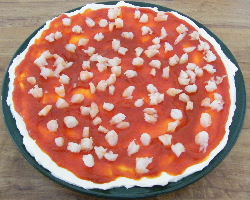 Shrimp Dip Party Platter
My sister (the one that often out cooks me) gave me this simple shrimp dip recipe. She brought it to one of our backyard barbeques and it was gone in a flash. Even the kids liked it....all the kids except mine, of course!
-8 ounces cream cheese
-8 ounces sour cream
-1 small (8 ounces) bottle of shrimp sauce (I use Hoffman House for this one and not my own shrimp sauce recipe)
-1 can of baby shrimp
Blend the cream cheese and sour cream together with your mixer and spread out on party platter or large dinner plate. Top with shrimp sauce and use the back of a teaspoon to spread it around to the outer edges. It's a good idea to drizzle the shrimp sauce all over the cream cheese rather than dumping it in the middle and trying to spread it out from there. Drain the baby shrimp and sprinkle all over the the sauce. You can also cut up larger shrimp that has been peeled and deveined (this is what I did in the photo because it's what I had on hand) or my sister has even used Sea Legs (imitation crab meat). Chill and serve with crispy crackers (we use Wheat Thins) or potato chips.
Click here for more great appetizer recipes like Shrimp Dip