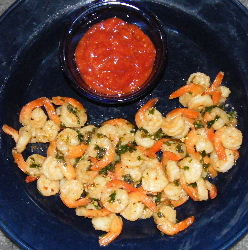 Shrimp Scampi
This shrimp scampi recipe is super simple and you can make it in minutes. Eat them with shrimp sauce, melted butter or on top of your favorite pasta like angel hair or linguini.

-2 tablespoons butter
-2 tablespoons olive oil
-1/2 to 1 pound shrimp, shelled and deveined
-1 teaspoon minced garlic
-1/4 cup fresh or frozen parsley, chopped
-2 teaspoons lemon juice
-red pepper or chili flakes
-salt and pepper to taste

Heat the butter and oil in a large skillet over high heat until the butter is completely melted and not foaming. Add the shrimp and stir frequently until they are pink and slightly golden. It takes 3-4 minutes depending on the size of your shrimp. Add the garlic and saute for another minute or so.

Add parsley, lemon juice, salt, pepper and a pinch of the red pepper flakes (just sprinkle a little on top). Lower heat and cook through, stirring frequently--about another 1-2 minutes. The juices from the saute sauce make a great pasta flavoring, just pour the shrimp and some of the juice onto your cooked pasta and you have a full meal.
Click here for more great seafood recipes like Shrimp Scampi!