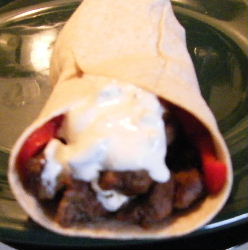 Easy Steak Fajitas Recipe
This is my easy, simple version of steak fajitas. I had left over tenderloin steaks that need to be made and eaten and didn't know what to do with them until I noticed the sweet red peppers in the refrigerator. This recipe isn't typical of fajitas, where you marinate the meat for hours--I was pinched for time, so I threw this together and it turned out so well, I thought I'd share it. This recipe makes enough for two fajitas, but you can easily increase the amount by doubling up. It's one of those no fail recipes.

-1 pound tenderloin steak
-1 small onion
-1 sweet red pepper (you can use green or yellow if you prefer)
-taco seasoning
-salt & pepper to taste
-wraps (I use the whole wheat version)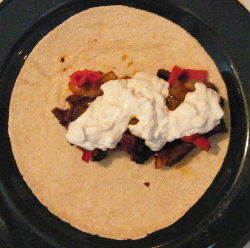 Cut your steak in strips and lay it in a large skillet on high heat. You can add a little oil to brown the meat. Sprinkle a good amount of taco seasoning over your meat, along with salt and pepper. If you like spicy, add more and if not, go easy on it. When your meat is seared on one side, flip it over and again, season with the taco seasoning, salt and pepper,

While the meat is cooking, clean and cut your onion and pepper into strips. When the meat is seared on both sides, add the onion and pepper strips and cover your skillet. Steam the mixture for five minutes.

When the five minutes are up, put on your wrap and top with any additional ingredients you like. Most people use salsa, sour cream and guacamole, however, I like to top it off with Mediterranean Olive Dip. It's a sour cream dip with black olives, green chiles and cheese. It's not that spicy but adds great flavor to the fajitas.
Click here for more great steak recipes like Steak Fajitas!