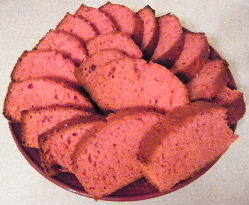 Strawberry Bread
This strawberry bread recipe is a great treat to bring to a potluck or a family get together. For me, the strawberry bread doubles as a coffee cake and I bring it to work as a breakfast treat for all those non-breakfast eaters.

-1/2 cup butter
-1 1/2 cup sugar
-1 teaspoon vanilla
-1 teaspoon salt
-1 teaspoon lemon juice
-4 eggs
-1/2 teaspoon baking soda
-1/2 cup sour cream
-3 cups flour
-1/2 cup chopped nuts
-1 cup strawberry preserves or strawberry jam
-1 tablespoon red food coloring
-1/2 cup chopped strawberries

In a large mixing bowl, blend butter, sugar, vanilla, salt and lemon juice with your electric mixer. Beat your eggs in one at a time to make sure they're well blended.

In a seperate bowl, mix the baking soda into the sour cream. Add the sour cream to the egg mixture.

Stir in the flour. Next, fold in the nuts, strawberries, strawberry jam and food coloring. These last 4 items do not need to be well blended in, as it will give your bread a swirled look. (If you're looking at the photo in this recipe, everything is well blended and I didn't put in the nuts or the extra strawberries because, one, I was pressed for time and two, I didn't have either on hand. It turned out okay, but it is tastier when I follow the complete recipe.)

Pour the batter into two large, greased (I use butter rather than the no stick spray mainly for flavor.) loaf pans. Bake at 350 degrees for 35-40 minutes, or until the bread pulls away from the pan and you can stick a toothpick in the center and not have liquid stuck to it.


Click here for more great bread recipes like Strawberry Bread!