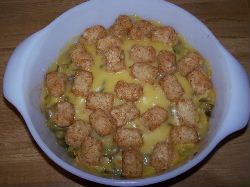 Tater Tot Casserole
Tater tot casserole isn't a new recipe, but it's definitely comfort food! This is one of my mom's favorite comfort food recipes and she has turned it into a one pot meal. It's one of those recipes that you can throw together in a pinch and have it on the table in an hour.

-1 pound ground meat (hamburger)
-1/8 teaspoon pepper
-1 -- 14 1/2 ounce can green beans
-1 can cream of chicken soup
-frozen tator tots

Layer ground meat in bottom of 3 quart casserole dish. Add pepper but do not add salt. Place dish in the oven and bake at 350 degrees for 20 minutes. Remove from oven and drain off the grease.

Spread green beans on top of ground meat and empty the can of soup on top, spreading that as well. Do not mix soup with water. Top with one layer of tator tots.

Bake at 350 degrees for another 30 minutes.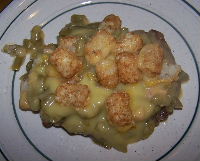 Click here for more great ground meat recipes like Tater Tot Casserole!