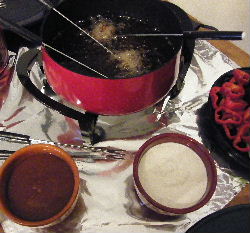 Tenderloin Fondue Recipe
This wonderful tenderloin fondue is a very versatile recipe and can be made with beef or pork. My first memory of having fondue was with my mom one New Year's Eve. I was young, about ten or so and we stayed home, just the two of us. We cut up chunks of lobster and steak and cooked it in the fondue pot on the living room coffee table while we sat on the floor.

My daughter doesn't like lobster (go figure, it's so expensive--you would think she'd want it every night), but she does love steak and pork, so we decided to do our own version with tenderloin fondue. We use beef or pork tenderloin and it works great.

Of course, loving to be able to dip and play with my food has always been one of my favorite ways to eat, so I always add a few dips to the table--mostly for me, since the only thing my daughter will dip in is melted butter. I use honey mustard sauce, barbecue sauce and a stronger version of the horsey sauce than what I have listed in the appetizer recipe section that is used for sandwiches and chips. The horseradish sauce recipe follows the meat cooking instructions.

-3/4 cup soy sauce
-1/4 cup Worcestershire sauce
-3/4 tablespoon garlic salt
-2 - 3 pounds of tenderloin - beef or pork, cut into 1 inch cubes
-2-3 cups cooking oil

In a large resealable bag, add the soy sauce, Worcestershire and garlic salt. Add the meat, seal the bag and turn it over, making sure the meat is completely coated. Refrigerate for two hours, turning every once in awhile to marinate the meat well.

When the meat is ready, remove it from the bag and discard the marinade. Place your oil in the fondue pot and heat to 350 degrees. Use your fondue forks to spear the meat and place in the pot until it is cooked to your liking--approximately 2-4 minutes. Serve it with a sauce, or several, of your choosing. To make the tangy horseradish sauce, use the following:


-1 cup sour cream
-2-3 tablespoons prepared horseradish
-1 tablespoon finely chopped onion
-1 teaspoon vinegar
-1/2 teaspoon salt
-1/4 teaspoon black pepper

Mix all these ingredients together while your tenderloin is marinating and get it in the refrigerator so it has time to chill and blend together before serving.


Click here for more great beef recipes like Tenderloin Fondue!