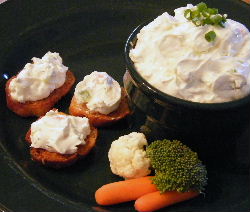 Vegie Bagel Spread
Vegie bagel spread is a yummy way to get more vegies into your diet and most kids like anything with cream cheese.

-1 - 8 ounce package cream cheese
-1 - 8 ounce container sour cream
-2 cups (a little more is ok) chopped carrots, broccoli, cauliflower and scallions (including the greens). Pieces should be around 1/4 inch
-1/8 teaspoon garlic powder (add more or less depending on your taste buds
-dash of pepper
-1 tablespoon of milk to use if it's too thick and not spreading well.

Mix together and chill for an hour. Serve with bagels, more fresh vegies or garlic toast. If you serve with garlic toast, like I have in the photo here, you may want to go easy on the garlic you add to the spread itself, or it can get over powering.
Click here for more great breakfast recipes like Vegie Bagel Spread!