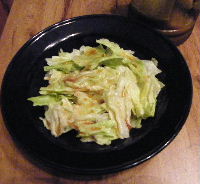 Healthy Vinaigrette Salad Dressing
This yummy vinaigrette dressing is actually a health conscious recipe my mom got from a holistic physician. She modified it a bit (now you know where I get it from) but it still has the same healthy ingredients and it is almost as good as my hot bacon dressing, which says a lot since that is my favorite. The ingredients may be a little difficult to find since some grocery stores don't carry everything, but if you look in the natural foods section, I do get everything at my local grocery store. This dressing has a sweet and sour tang to it that I hope you'll love.

-1 cup extra virgin olive oil
-2/3 cup apple cider vinegar (the unfiltered kind)
-1 tablespoon liquid aminos
-1 teaspoon unsulphured molasses
-2 teaspoons pure maple syrup (not the corn syrup stuff)

Pour all the ingredients into a plastic bottle with a tight cap and shake. Pour over your salad and serve.

This dressing needs to be refrigerated.


Click here for more great salads & dressings like Healthy Vinaigrette!