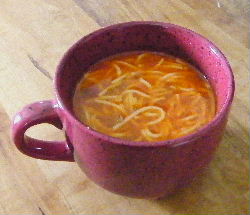 Grandma's Chili Soup
This is my Grandma's chili soup recipe. It's not like the thick, spicy meat and bean dish most people think of when having chili. It's a flavorful soup with some of those key ingredients mixed in. Chili soup actually has very few ingredients and is incredibly easy to make with items you will typically have in your freezer or cupboard. I've never seen a recipe like this before and there isn't any indication on Gram's recipe to tell me where it came from. I kind of think this was the result of her attempt to make someone else's chili and it turned out different and better than expected so she kept on making it.

-2 pounds ground beef
-12 ounces spaghetti
-4 quarts water
-1 small onion, coarsely chopped
-2 stalks celery, cut in large chunks (3-4 inches to be removed later)
-1 can kidney beans; do not drain
-1 32 ounce can of pureed tomatoes (I use a quart of home canned tomatoes and puree them in a blender)
-1/2 cup ketchup
-1 teaspoon chili powder
-1/4 teaspoon sugar
-1 teaspoon salt
-1/2 teaspoon paprika

In a large frying pan, brown your ground beef, adding a little salt and pepper while it's cooking. Do not drain the meat. When it is almost done, add in the onion and chili powder. Continue to cook on a medium heat until hamburger is done and onion is an opaque color. DO NOT DRAIN this mixture, just set aside until your spaghetti is ready.

While the meat is cooking, put the water and 1/2 teaspoon salt into a large pot and bring it to a boil. When water is boiling, add spaghetti and return to a boil, stirring frequently until pasta is almost cooked--about 6-7 minutes. DO NOT DRAIN the pasta. You don't need to worry about how long you actually cook the pasta (just so it is soft) because it will have time to cook more thoroughly when you add all the other ingredients and then it will absorb those flavors too.

When the spaghetti is soft, add the meat mixture to the pot. I know you're thinking, 'that's a lot of fat' but we will skim this off later because the fat adds a lot of flavor to the soup while it's cooking.

Next, add the kidney beans, tomatoes, celery, ketchup, sugar, paprika and the remaining salt to the pot and simmer for 1 hour. The reason the celery is cut in such big chunks is that Gram added it for flavor but most of us didn't like celery in our chili so she would take it out before she served it. My uncle liked it though, so he would eat it in the big chunks; if you like the cooked celery, there is no reason, not to cut it up smaller and leave it in.

After it is done cooking, put the chili soup in the refrigerator (Gram would put it out on the back porch in winter) to cool. When it is completely cold, there will be a fairly hard layer of grease on the top. Take a spoon and skim this off. Warm up your chili and serve.
Click here for more great soup recipes like Grandma's Chili Soup