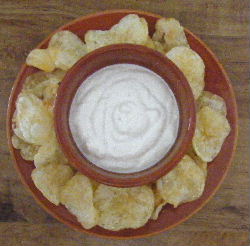 Horsey Sauce
Horsey sauce, which is sometimes called Tiger Sauce is a simple sauce that can be used for so many dishes. I first discovered this sauce on a trip to Disney World, when it was served with an order of onion straws. Our waiter couldn't give me the measurements, but he gave me an ingredient list and that was all I needed. Later, I discovered that the same restaurant that makes the Long Island Iced Teas that I love so much, serve this sauce with kettle chips as an appetizer. It's great for dipping, and I use it with my own homemade chips, but I also started adding it to my wraps and sandwiches in place of plain mayo, and it is great for this as well.

-1/2 cup mayonnaise
-1/2 cup sour cream
-1/2 teaspoon white pepper (you can use black pepper, the only difference is that it shows)
-1/8 teaspoon salt
-2 teaspoons prepared horseradish (in the refrigerated foods section, usually by the dairy of your grocer)

Blend all the ingredients together and chill for at least 20 minutes. Serve with onion straws, kettle chips or in place of mayo on your favorite sandwich.
Click here for more great dips and appetizers like Horsey Sauce!