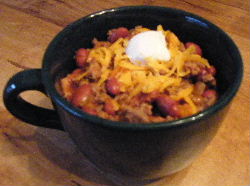 Thick Chili Recipe
This thick chili recipe is easy--it's thick with meat and beans and a little on the spicy side. I add bacon for a smokey flavor and cumin to turn up the heat. There's really not a ton of spice to this recipe because I have mostly wimpy family members, who can't tolerate it, but if you like it really hot, double your chili powder and cumin and add a teaspoon of red pepper flakes. There are also several choices in the ingredients for you to turn up the heat as well.

-3 pounds ground meat
-5 slices bacon
-1 cup coarsely chopped onion
-1 cup coarsely chopped pepper (I use red, but you can use green, yellow, orange or if you really like spice, use hot peppers or pepperoncini!)
-2 cans chili beans in mild, medium or hot sauce
-32 ounces whole tomatoes--if you buy them in the store, remove the stems prior to adding them to your chili. I use a jar of home canned tomatoes.
-1 tablespoon chili seasoning
-1/2 teaspoon ground cumin
-1 teaspoon Worcestershire sauce

Brown ground meat in a large frying pan, salt and pepper it as it cooks. Drain, rinse and add to a large pot.

Fry up the bacon crispy and crumble it in the pot. Pour off the bacon grease, but use the same pan to saute the onion and pepper together, adding chili seasoning and cumin. Cook until onions are clear and add to the pot.

Add the balance of the ingredients to the pot and simmer for 1 hour. Serve with a dollop of whipped cream and shredded cheddar cheese on top. This chili is one of those that gets better as it ages and all the flavors blend together.


Click here for more great soup recipes like this Thick Chili Recipe!