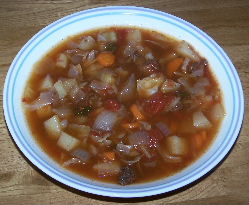 Beef Vegetable Soup
Grandma used to make this beef vegetable soup by boiling beef soup bones. It was just one more way Gram would make a cut of meat last, but it added so much flavor to the soup. If you're knowledgeable in boiling the bones, you can do so, just add enough beef broth to make up the liquid if you're short, and I would still suggest adding some extra beef--there wasn't much left on the bones when Gram boiled them.

This is my mom's version, with of course a little tweaking from me.....shshsh, we won't be telling her.

-2 cups shredded beef roast (I use leftovers from my roast beef recipe)
-64 ounces beef broth (2 large cans)
-1 cup coarsely chopped onion
-1 cup peeled and sliced carrots
-1 cup peeled and cubed potatoes
-4 cups shredded white cabbage
-1/2 cup chopped fresh parsley (the leafy part)
-1 quart home canned tomatoes or 32 ounces whole canned tomatoes with the stems removed
-1/4 teaspoon pepper
-1 tablespoon salt
Add all the ingredients to a large pot and bring to a boil. Reduce heat and then simmer for about 30 minutes until the vegetables are soft.
Just a note about the tomatoes: My mom uses whole tomatoes but Gram used homemade tomato juice and that's what I do as well. You can accomplish this with store bought tomatoes easily enough. Just remove the stems of the whole tomatoes and put them in your blender hitting puree. Don't use store bought tomato juice because it doesn't give the same consistency.

My mom wrote a note at the bottom of her recipe, reminding me that "if you add any other vegetables, it will change the flavor of the soup". She knows me so well. I've been known to add several things to this soup like corn, peas and green beans as well as spices like rosemary, thyme, coriander and marjoram. Feel free to experiment. This is a VERY forgiving soup and it's really hard to mess it up.


Click here for more great soup recipes like Beef Vegetable Soup!